As part of the celebratory activities to mark Nigeria's 54th Independence anniversary, the 2014 National Honours Awards ceremony held yesterday at the International Conference Center, Abuja.
A total of 313 people were conferred the awards for their outstanding contributions to society, ChannelsTv reports.
Recipients  of the award include Nollywood stars, Joke Silva and Omotola Jalade-Ekeinde, Taiwo Akinkunmi, the 77-year-old designer of the national flag; Solomon Dauda, an Abuja traffic warden; Onuh Isaac Michael, the Chief Steward of the Presidential Villa, Abuja, who served nine Presidents and Heads of State, and many more individuals in the fields of politics, security issues, sports, entertainment, business and the corporate world.
Ekeinde and Silva were both given the MON (Member of the order of the Niger) award.
Dauda and Michael each received a three-bedroom flat, in addition to their MON (Member of the Order of the Niger) awards.
One of the highlights from the event was when Imeh Usuah, a taxi driver, who returned N18 million that a foreigner left in his cab in 2007, received the MFR award (Member of the Order of Federal Republic), and was also given a three-bedroom flat in Abuja, The Citizen reports.
Also, Taiwo Akinkunmi, the 77-year-old designer of the national flag received the OFR (Officer of the Order of the Federal Republic award) and will also receive the salary of a special assistant to the president for the rest of his life.
Below are some photos from the event: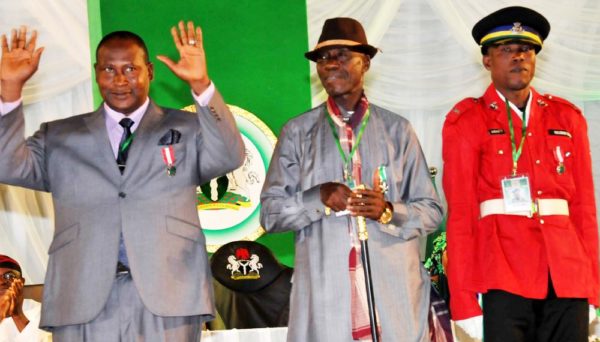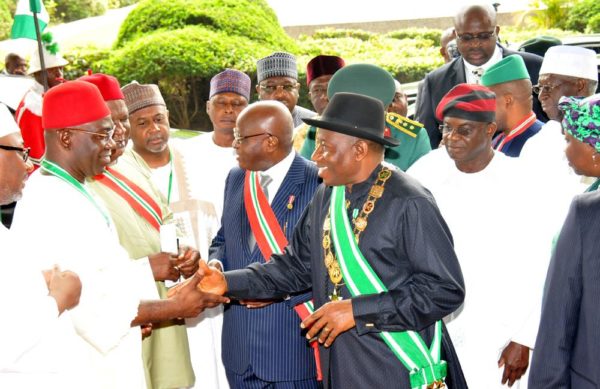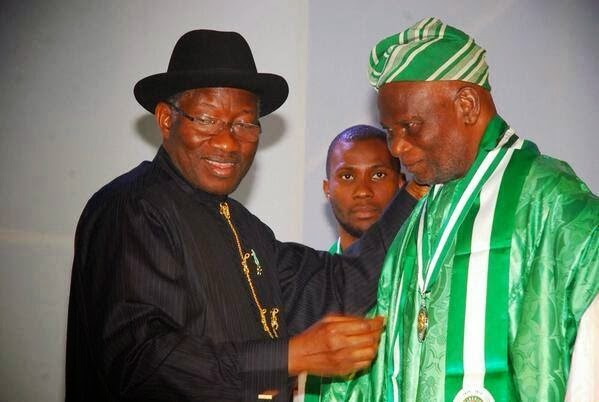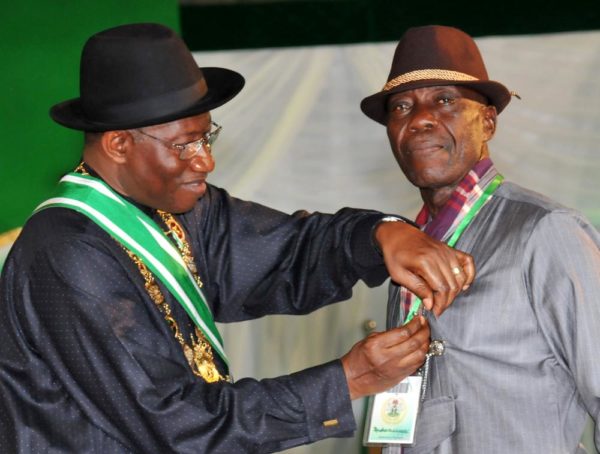 Here's a list of some of the winners. To see the comprehensive list, click HERE.
Onuh Isaac Michael
Head, Presidential Stewards
MON
Ibrahim Mohammed Mera
Public Servant/Dcg Customs
OON
Peter Dedevbo
Coach Under 20 National Female Football Team
OON
Air Marshal Alex Sabundu Badeh
Chief of Defence Staff
CFR
Maj. Gen. Kenneth Minimah
Chief of Army Staff
CFR
Rear Admiral Usman Jibrin
chief of naval staff
CFR
Air Vice Marshal Adesola Amosu
Chief of Air Staff
CFR
Chief Mrs. Nkechi Okemini Mba
National President, National Council Of Women Societies
MFR
Alhaji Sulaiman Abba
acting inspector general of police
CFR
Hon. Justice Bolarinwa o. Babalakin
Fmr. Supreme Court, Judge
CFR
Hon. Justice Abubakar Bashir Wali
Justice Of The Supreme Court, (rtd)
CFR
Hon. Justice Ibrahim Tanko Muhammad
Justice Of The Supreme Court
CFR
Hon. Justice christopher m. Chukwuma – Eneh
Justice Of The Supreme Court
CFR
Hon. Justice Muhammad S. Muntaka Coomassie
Justice Of The Supreme Court
CFR
Hon. Justice John Afolabi Fabiyi
Justice Of The Supreme Court
CFR
Hon. Justice Olufunlola Oyelola Adekeye
Justice Of The Supreme Court
CFR
Mohammed Sambo Dasuki
National security adviser
CFR
Bukar Goni Aji
Former Head of Service of the  Federation
CFR
Mr. Danladi  I. Kifasi, Oon, Mni
Head of Service of the Federation
CFR
Photo Credit: NAN-PHOTO